Series V Gradall Metal Mill Maintenance Machines Provide Exceptional Boom Reach and Movement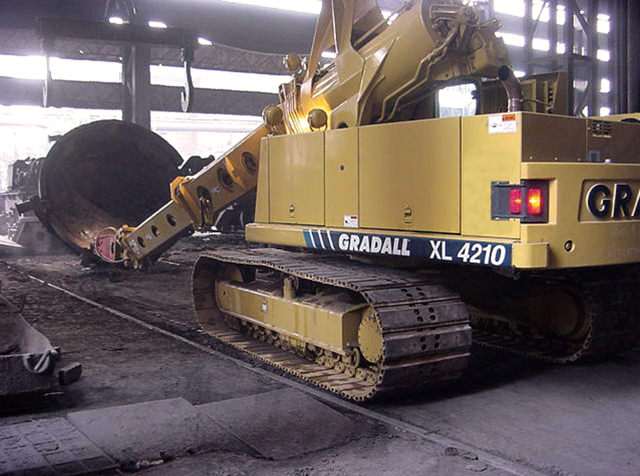 NEW PHILADELPHIA, OH – Continuous 360-degree full boom tilt provides precise tool positioning, reach and low-overhead working capability for Gradall Series V high-performance metal mill maintenance machines.

These versatile maintenance machines will be featured in the Gradall exhibit in Hall 5, Booth E08, at METEC, the international metallurgical trade fair to be held June 25-29 in Dusseldorf, Germany.

With full boom tilt, the steel mill maintenance models can properly position attachments for skulling and cleaning hot metal ladles, removing bricks, cleaning distribution channels or placing tap holes. Standard steel mill attachments include hammers, drills, rippers and buckets. Aluminum mill machines typically use a paddle to reach into furnaces to skim dross and maintain furnace walls and bottoms, or handle pot cleaning and furnace teardowns.

Heavy-duty rollers reinforce the exceptionally rugged booms on Gradall metal mill machines, providing optimal strength and the ability to withstand vigorous pounding and vibration.

Wheeled undercarriage models allow for extra mobility to handle many jobs in busy mills, maneuvering easily and traveling at up to 18 mph. Heat-resistant foam-filled or solid tires are available, and machines can be protected with optional heat-resistant shields.

Crawler undercarriage models provide a stable work platform on any surface, along with excellent maneuverability and traction. The carriage track has thick grouser pads, resistant to contact with hot metal.

A load-sensing hydraulic system automatically adjusts for any job without the need for working modes, and an in-cab switch allows operators to select either the
Gradall, Deere, or SAE joystick pattern. Operators appreciate adjustable seating, convenient foot pedals for positioning as well as standard heaters and
air conditioning.

METEC is held every four years and is expected to attract 18,000 people from throughout the world to see equipment innovations on display with 525 exhibitors in 21,000 square meters of space.

All machines manufactured by Gradall Industries meet or exceed ISO 9001-2008 standards for quality. For information, visit www.gradallindustries.com or call 330-339-2211.




Alamo Group, Inc.: For over 40 years, Alamo Group has been a world leader in the design, manufacture, distribution, and service of high-quality equipment for right-of-way maintenance and agriculture. Alamo products include tractor and truck mounted mowing and other vegetation maintenance equipment, excavators, street sweepers, vacuum trucks, snow removal equipment, pothole patchers, agricultural attachments, and related aftermarket parts and services. Alamo currently produces and assembles products in 16 principal facilities worldwide, sold through Alamo Group's marketing organizations and Alamo's extensive independent worldwide dealer networks under various trademarks and trade names. These include Alamo Industrial, Tiger, Schwarze, Gradall, Vacall, Nite-Hawk, Henke Manufacturing, Schulte, Rhino, M & W, SMC, Herschel, Valu-Bilt, Bomford, Spearhead, McConnel, Twose, SMA, Forges Gorce, Faucheux, Rousseau, Rivard, and others. Alamo Group went public in 1993 and since 1995 has been listed on the New York Stock Exchange as ALG. Visit our website at www.alamo-group.com.
Steel Mill Maintenance Machines

Crawler
Max. Radius at Groundline
Operating Weight
XL 3210 V
28'4" (8.6 m)
44,327 lbs. (20,106 kg)
XL 4210 V
31'5" (9.6 m)
48,862 lbs. (22,163 kg)
XL 5210 V
34'10" (10.6 m)
59,162 lbs. (26,835 kg)
XL 7210 II
48'1" (14.7 m)
79,000 lbs. (35,970 kg)
Wheeled
Max. Radius at Groundline
Operating Weight
XL 3310 V
28'2" (8.6 m)
42,294 lbs. (19,184 kg)
XL 4310 V
31'3" (9.5 m)
46,580 lbs. (21,128 kg)
XL 5310 V
34'9" (10.6 m)
55,926 lbs. (25,368 kg)
XL 7310 V
47'10" (14.6 m)
77,500 lbs. (35,153 kg)

Aluminum Mill Maintenance Machines

Crawler
Max. Radius at Groundline
Operating Weight
XL 4240 V
40'11" (12.5 m)
67,500 lbs. (30,617 kg)
RETURN TO NEWS INDEX
BUILT TO WORK.
BUILT TO LAST.
Manufactured in America with the highest quality standards, Gradall Metal Mill maintenance machines are built for hard work and a long machine life. Backed by the Gradall name, a well-known and respected brand worldwide in the construction industry.